U.S. Stocks Tumble in Monday Trading Once Again
U.S. stocks are continuing to sink Monday as banks and healthcare and energy companies slip. The Dow Jones industrial average sank more than 500 points for the second trading day in a row, erasing almost all the gains it made this year. Stocks are on track for their biggest one-day drop since June 2016.
Wells Fargo is plunging after the Federal Reserve hit the bank with new sanctions Friday over a scandal that involved opening millions of phony consumer accounts. The market erased a portion of its early morning losses after a report showing more evidence of economic strength in the U.S economy, but then stocks fell again.
The Standard & Poor's 500 index fell 49 points, or 1.8%, to 2,713 around 2:30 p.m. EST. The Dow Jones industrial average slid 520 points, or 2%, to 25,001. The Nasdaq composite fell 92 points, or 1.3%, to 7,149. The Russell 2000 index of smaller-company stocks was down 19 points, or 1.2%, to 1,528.
The S&P 500 is down about 5.5% from its latest record high, set Jan. 26.
Investors are worried about evidence of rising inflation in the United States. Increased inflation might push the Federal Reserve to raise interest rates more quickly, something that could slow down economic growth by making it more expensive for people and businesses to borrow money. Rising bond yields are also making bonds more appealing than stocks to investors.
WELLS FARGO PLUNGES: Wells Fargo dropped 8.7% to $58.47 as of about 1:30 EST. Late Friday, the Fed said it will freeze Wells Fargo's assets at the level where they stood at the end of last year until the San Francisco bank can demonstrate improved internal controls. The bank also agreed to remove four directors from its board.
The S&P energy index .SPNY led the decliners among the 11 major S&P sectors, with a 2.03 percent fall. Exxon's (XOM.N) 4.1 percent fall weighed the most on the Dow and was the second biggest drag on the S&P.
Oil prices neared their lowest in a month as rising U.S. output and a weaker physical market added to the pressure from a widespread decline across equities and commodities. [O/R]
A prominent Harvard economist is warning that the U.S. stock market, which on Monday extended Friday's big drop — is set for a drop of as much as a third of its current value, an outlook that would entail the Dow Jones Industrial Average tumbling to approximately 16,000 from its current lofty level.
Consumer prices jump much more than forecast, sparking inflation fears in some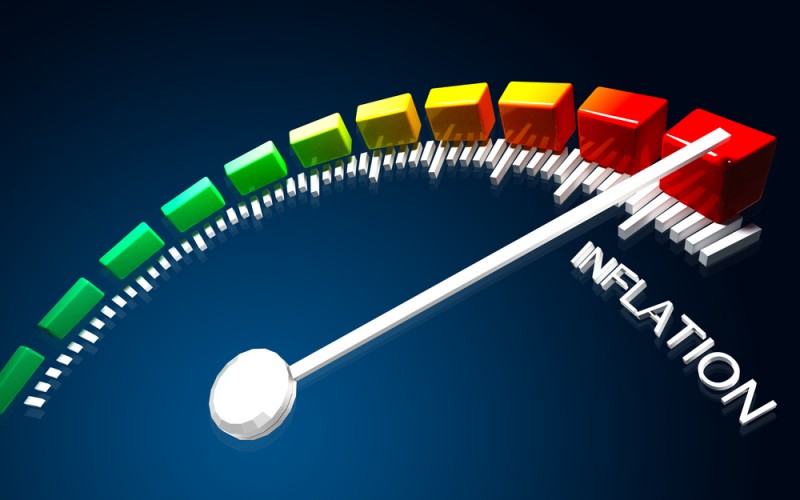 U.S. consumer prices rose considerably more than expected in January, fueling fears that inflation is about to turn dangerously higher.
The Consumer Price Index rose 0.5 percent last month against projections of a 0.3 percent increase, the Labor Department reported Wednesday. Excluding volatile food and energy prices, the index was up 0.3 percent against estimates of 0.2 percent.
The report indicated that price pressures were "broad-based," with rises in gasoline, shelter, clothing, medical care and food.
Markets reacted sharply to the news. The Dow opened more than 100 points lower, but reversed those losses after the first half-hour of trading. Government bond yields also turned higher, with the benchmark 10-year note most recently trading near 2.88 percent, a gain of about 3.8 basis points.
Investors also began to price in the likelihood that the Federal Reserve will raise interest rates at least three times this year.