Here We Go…Mueller issues Steve Bannon subpoena in special counsel Russia probe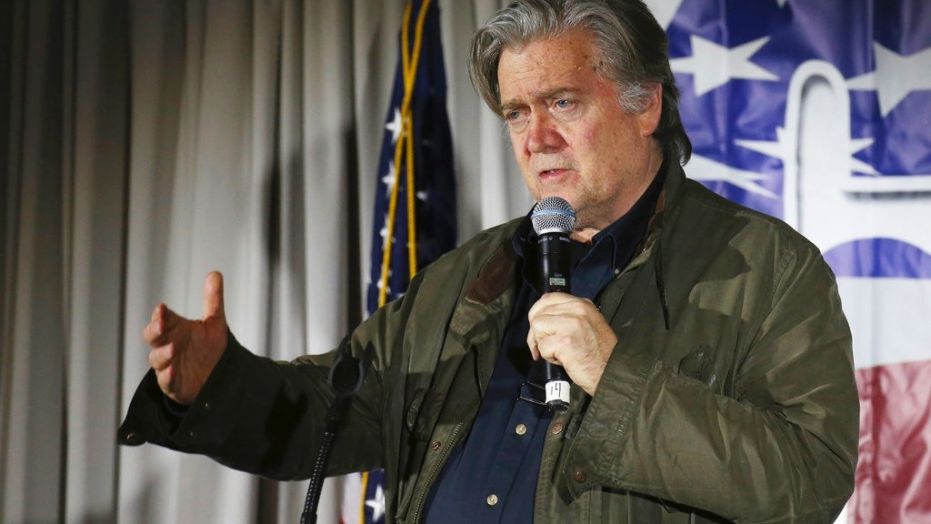 Fired White House chief strategist and ex-Trump campaign manager Steve Bannon has been subpoenaed by special counsel Robert Mueller, Fox News has confirmed.
First reported by The New York Times, the Bannon subpoena was issued by Mueller's team last week. Sources told Fox News that Bannon's subpoena, requiring him to appear before a grand jury investigating Russian meddling in the 2016 presidential election, was issued after the FBI was initially unable to contact him.
Sources familiar with the matter told Fox News that despite the subpoena to testify before a grand jury, there is a possibility that Bannon will, instead, be interviewed by Mueller's office.
"Even if you thought that was not treasonous, or unpatriotic, or bad s**t, and I happen to think it's all of that, you should have called the FBI immediately."
– Quote attributed to Steve Bannon in "Fire and Fury"
A spokesperson for Mueller did not immediately respond to Fox News' request for comment.
Revelation of the Bannon's subpoena came as the onetime Breitbart News executive chairman testified behind closed doors on Capitol Hill Tuesday. Bannon appeared before investigators at the House Intelligence Committee as part of its Russia probe.
Bannon's subpoena, and interview with congressional investigators, comes after the publication of Michael Wolff's book "Fire and Fury: Inside the Trump White House," where Bannon made comments blasting President Trump's eldest son Donald Trump Jr., son-in-law Jared Kushner, and ex-campaign chairman Paul Manafort.
Bannon described their infamous June 2016 meeting in Trump Tower with Russian attorney Natalia Veselnitskaya during the campaign "treasonous" and "unpatriotic."
STEVE BANNON TESTIFIES BEFORE HOUSE INTEL COMMITTEE AS PART OF RUSSIA PROBE 
"Even if you thought that was not treasonous, or unpatriotic, or bad s**t, and I happen to think it's all of that, you should have called the FBI immediately," Bannon said in the book.
Bannon also said that Trump Jr. would be cracked "like an egg on live TV" in any possible public testimony about the situation.
The president issued a multi-paragraph blistering takedown of Bannon, who left his White House post in August, suggesting that "sloppy Steve" Bannon had "lost his mind," seeking to distance himself from the former chief strategist.
"Steve Bannon has nothing to do with me or my presidency," Trump said in the statement. "When he was fired, he not only lost his job, he lost his mind."
Bannon is just the latest Trump campaign associate to be summoned to interview with Mueller.
In October 2017, Manafort and his associate Rick Gates were indicted by a federal grand jury on 12 counts, as part of Mueller's investigation. Both pleaded not guilty.
PAUL MANAFORT, RICK GATES INDICTED BY FEDERAL GRAND JURY IN RUSSIA PROBE 
The special counsel's office told Fox News that the counts included conspiracy against the United States, conspiracy to launder money, unregistered agent of a foreign principal, false and misleading Foreign Agent Registration (FARA) statements, false statements and seven counts of failure to file reports of foreign banks and financial accounts.
FL Shooting Survivor Colton Haab: CNN Told Me I Needed To "Stick To The Script"; Entire Town Hall Scripted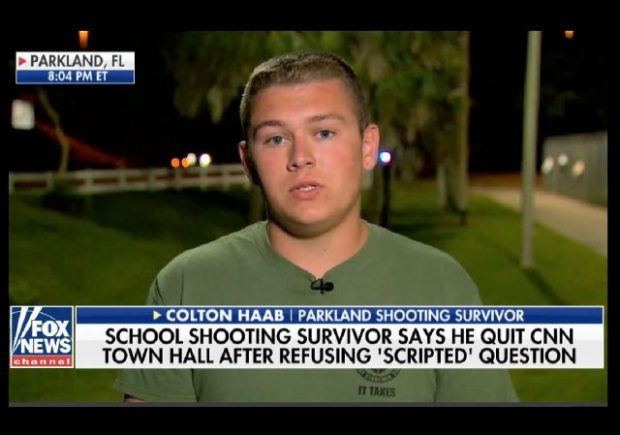 Marjory Stoneman Douglas High School shooting survivor Colton Haab appeared on FOX News' Tucker Carlson Tonight to talk about his saga with CNN and how they "scripted" a question for him to use at Wednesday night's town hall event hosted by the network and moderated by CNN's Jake Tapper.
Haab, a JROTC member who helped shepherd students to safety, was approached by the network to ask a question at the town hall. Haab showed CNN what he wanted to say but said Carrie Stevenson, an executive producer at CNN, ultimately rejected it and instead after several conversations "scripted" a question for him.
"CNN had originally asked me to write a speech and questions and it ended up being all scripted," Haab said to a local news outlet Wednesday night.
Haab said he believed all the questions asked at the town hall were scripted. Haab explained in detail what happened between him and the cable news network and what he thought of the town hall.
COLTON HAAB: So what had happened was four days ago I had gotten contacted by a lady named [State of the Union executive producer] Carrie Stevenson from CNN. She had asked me originally to just write a speech. It was going to be at the town hall at the BB&T Center [in Sunrise, Florida]. So I agreed. I felt like it would be the right thing to do. Be able to go speak my part as well as open eyes to a few things that I thought that can make this situation a little better. From there, three days ago, so the next day after that I had gotten an email back from her and she asked for more of questions rather than a speech. Which I was totally fine with so I wrote a little less of a speech and more of questions that I wanted to ask at the town hall. The day after that it was more of just questions. She asked for just questions that I would like to ask.

So, I gave her my questions and then yesterday, at about 5:15, I made contact with her. And she had asked if I had just asked her one question. So what they had actually done was wrote out a question for me because in my interview with CNN, I had talked about arming the teachers, if they were willing to arm themselves in the school to carry on campus. And they had — she had taken that of what I had briefed on and actually wrote that question out for me. So I have that question here if you would like me to ask it for you.
"I just want to make sure I have this straight. So you sent them a long, in effect essay on what you thought but they put their own words in the question and they weren't the same as the words you had sent in? They were the producer's words?" Carlson asked.
"Absolutely," Haab answered. "They had taken what I had wrote and what I had briefed on and talked about and they actually wrote the question for me."