Feinstein Wants To Raise Minimum Age For Rifle Purchases To 21…How About Voting Age Too?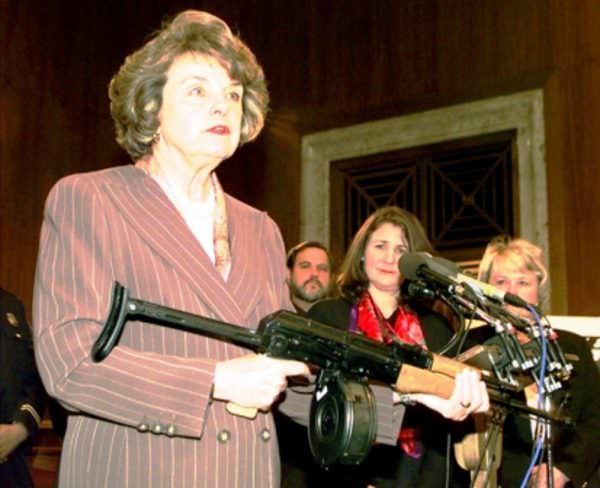 Well Dianne, maybe we shouldn't allow those under 21 to vote either? Since CA already changed tobacco to 21 as well. How about the legal adult age for personal responsibility?  If we can can't trust those under 21 with these other things, why should we trust them with something as important and defining as voting? Because the left relies on our young, brainwashed youth for votes.
Everyone's favorite gun-grabbing Senator, Dianne Feinstein, is back at it again with more anti-gun legislation. This time she is using the tragic school shooting in Parkland, Florida to push her political agenda on the American Public.
A gun free zone and high school in Parkland, Florida was a recent scene of a mass shooting carried out by a mentally disturbed man named, Nicholas Cruz. The FBI was tipped off about Cruz's plan to execute a mass shooting at the school, but they failed to act on the information. Police took Cruz into custody after he killed 17 of his former classmates.
Sen. Feinstein (D-Ca) from San Franciso has said she is going to introduce a bill in the Senate that would raise the age to purchase a rifle from 18 years old to 21 years old. The 18-year-olds, who serve in the military, will still be able to carry a gun in combat. They just will not be allowed to buy one when they return home from protecting our freedom from the people that want to kill us.
"Under current law, licensed gun dealers cannot sell a handgun to anyone under 21, but they are allowed to sell assault rifles like the AR-15 to anyone over 18," Feinstein said of the current laws. "This policy is dangerous and makes absolutely no sense."
Feinstein demonstrated in her statement that she doesn't understand what constitutes an assault rifle. An assault rifle is a heavily regulated select fire firearm that cost thousands of dollars. Private collectors cannot buy any assault rifles made after 1986. The AR15 is not an assault rifle and is not a select-fire rifle.
It is undetermined if Feinstein calling an AR15 an assault rifle is a mistake, or if she was making an attempted to fool the general public. Since she has to know her bill will not make it out of committee, this could also be an attempt to satisfy the far left wing of the Democratic party.
"If you can't buy a handgun or a bottle of beer, you shouldn't be able to buy an AR-15," Feinstein went on to say. "This is common sense, and I hope my Republican colleagues will join me in this effort."
What Feinstein doesn't explain is how it isn't "common sense" to know that criminals don't obey the laws. Murder is already illegal so if a person already violates one of the ten commandments and something that is illegal in every country in the world why would they obey gun laws? Wouldn't it be "common sense" that these evil people wouldn't follow the law?
This bill isn't the first time Senator Feinstein exploited a tragedy to push her far left anti-gun agenda. After the Las Vegas shooting in October, where Stephen Paddock killed over 50 people, she introduced the "Automatic Gunfire Prevention Act." This act would have banned bump stocks. It never made it out of committee.
FL Shooting Survivor Colton Haab: CNN Told Me I Needed To "Stick To The Script"; Entire Town Hall Scripted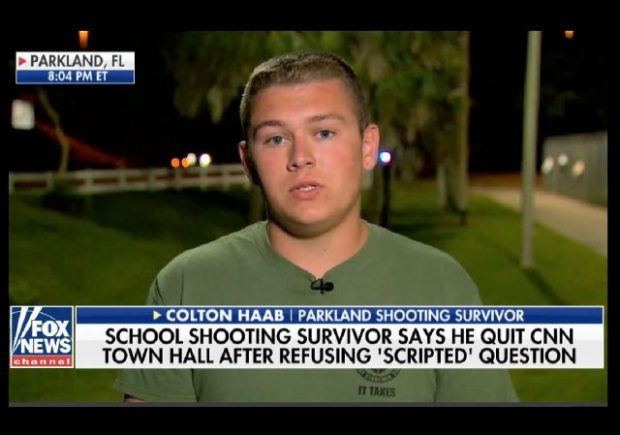 Marjory Stoneman Douglas High School shooting survivor Colton Haab appeared on FOX News' Tucker Carlson Tonight to talk about his saga with CNN and how they "scripted" a question for him to use at Wednesday night's town hall event hosted by the network and moderated by CNN's Jake Tapper.
Haab, a JROTC member who helped shepherd students to safety, was approached by the network to ask a question at the town hall. Haab showed CNN what he wanted to say but said Carrie Stevenson, an executive producer at CNN, ultimately rejected it and instead after several conversations "scripted" a question for him.
"CNN had originally asked me to write a speech and questions and it ended up being all scripted," Haab said to a local news outlet Wednesday night.
Haab said he believed all the questions asked at the town hall were scripted. Haab explained in detail what happened between him and the cable news network and what he thought of the town hall.
COLTON HAAB: So what had happened was four days ago I had gotten contacted by a lady named [State of the Union executive producer] Carrie Stevenson from CNN. She had asked me originally to just write a speech. It was going to be at the town hall at the BB&T Center [in Sunrise, Florida]. So I agreed. I felt like it would be the right thing to do. Be able to go speak my part as well as open eyes to a few things that I thought that can make this situation a little better. From there, three days ago, so the next day after that I had gotten an email back from her and she asked for more of questions rather than a speech. Which I was totally fine with so I wrote a little less of a speech and more of questions that I wanted to ask at the town hall. The day after that it was more of just questions. She asked for just questions that I would like to ask.

So, I gave her my questions and then yesterday, at about 5:15, I made contact with her. And she had asked if I had just asked her one question. So what they had actually done was wrote out a question for me because in my interview with CNN, I had talked about arming the teachers, if they were willing to arm themselves in the school to carry on campus. And they had — she had taken that of what I had briefed on and actually wrote that question out for me. So I have that question here if you would like me to ask it for you.
"I just want to make sure I have this straight. So you sent them a long, in effect essay on what you thought but they put their own words in the question and they weren't the same as the words you had sent in? They were the producer's words?" Carlson asked.
"Absolutely," Haab answered. "They had taken what I had wrote and what I had briefed on and talked about and they actually wrote the question for me."