Deal or NO DEAL? Congressional leaders reach budget deal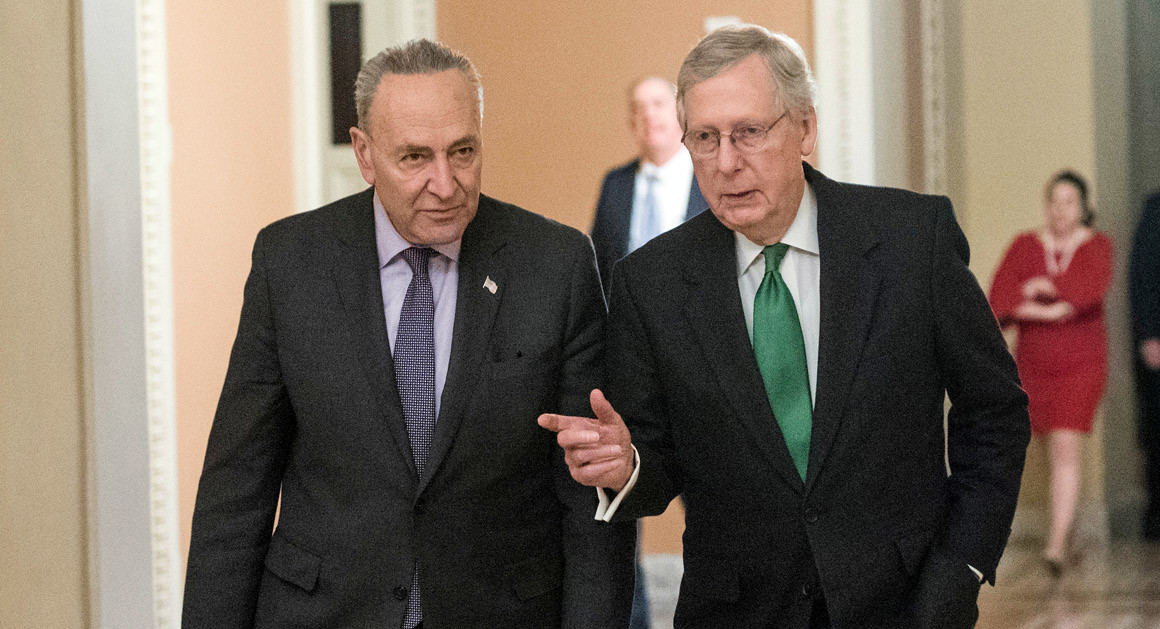 Congressional leaders on Wednesday clinched a two-year deal to lift strict budget caps on defense and domestic spending, likely putting an end to a series of short-term spending bills and shutdown fights that have defined Washington the past few months.
The deal is expected to increase defense and domestic spending by roughly $300 billion over two years, according to administration and congressional sources, as well as lift the debt ceiling through the election and include tens of billions in disaster aid.
"This bill is the product of extensive negotiations among congressional leaders and the White House. No one thinks this bill is perfect. But we worked hard to find common ground and stay focused on serving the American people," Senate Majority Leader Mitch McConnell (R-Ky.) said in announcing the agreement.
"The budget deal doesn't have everything Democrats want. It doesn't have everything the Republicans want. But it has a great deal of what the American people want," said Senate Minority Leader Chuck Schumer (D-N.Y.). "After months of legislative logjams, this budget deal is a genuine breakthrough."
The Senate is expected vote on the pact on Thursday, according to Senate Majority Whip John Cornyn (R-Texas). It's likely to pass easily, though House approval will be more difficult.
And though President Donald Trump suggested that the government could shut down without action on immigration, a top White House aide signaled that Trump supports the bill.
FL Shooting Survivor Colton Haab: CNN Told Me I Needed To "Stick To The Script"; Entire Town Hall Scripted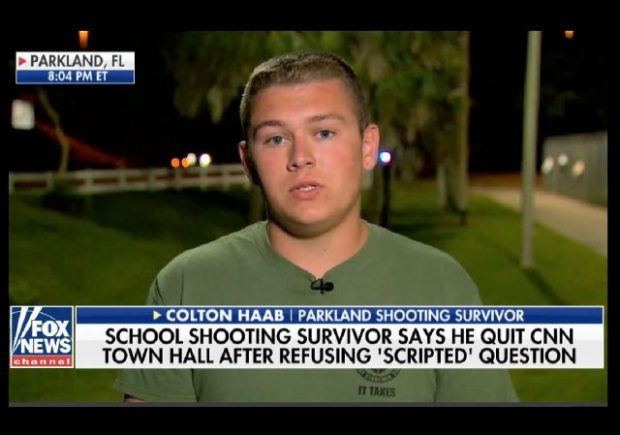 Marjory Stoneman Douglas High School shooting survivor Colton Haab appeared on FOX News' Tucker Carlson Tonight to talk about his saga with CNN and how they "scripted" a question for him to use at Wednesday night's town hall event hosted by the network and moderated by CNN's Jake Tapper.
Haab, a JROTC member who helped shepherd students to safety, was approached by the network to ask a question at the town hall. Haab showed CNN what he wanted to say but said Carrie Stevenson, an executive producer at CNN, ultimately rejected it and instead after several conversations "scripted" a question for him.
"CNN had originally asked me to write a speech and questions and it ended up being all scripted," Haab said to a local news outlet Wednesday night.
Haab said he believed all the questions asked at the town hall were scripted. Haab explained in detail what happened between him and the cable news network and what he thought of the town hall.
COLTON HAAB: So what had happened was four days ago I had gotten contacted by a lady named [State of the Union executive producer] Carrie Stevenson from CNN. She had asked me originally to just write a speech. It was going to be at the town hall at the BB&T Center [in Sunrise, Florida]. So I agreed. I felt like it would be the right thing to do. Be able to go speak my part as well as open eyes to a few things that I thought that can make this situation a little better. From there, three days ago, so the next day after that I had gotten an email back from her and she asked for more of questions rather than a speech. Which I was totally fine with so I wrote a little less of a speech and more of questions that I wanted to ask at the town hall. The day after that it was more of just questions. She asked for just questions that I would like to ask.

So, I gave her my questions and then yesterday, at about 5:15, I made contact with her. And she had asked if I had just asked her one question. So what they had actually done was wrote out a question for me because in my interview with CNN, I had talked about arming the teachers, if they were willing to arm themselves in the school to carry on campus. And they had — she had taken that of what I had briefed on and actually wrote that question out for me. So I have that question here if you would like me to ask it for you.
"I just want to make sure I have this straight. So you sent them a long, in effect essay on what you thought but they put their own words in the question and they weren't the same as the words you had sent in? They were the producer's words?" Carlson asked.
"Absolutely," Haab answered. "They had taken what I had wrote and what I had briefed on and talked about and they actually wrote the question for me."