Al Franken Resigns Amid Major Controversy
Calling it "the worst day of his political life," Sen. Al Franken said Thursday he will resign from the U.S. Senate following a wave of sexual misconduct allegations against him that ranged from groping to forcibly trying to kiss women.
Franken, who said that some of the compaints against him were "simply not true" and that he remembers others "differently," also took a parting shot at President Trump.
Al Franken, Creeper Extraordinaire, Lectures on Women's Health Issues at Hearing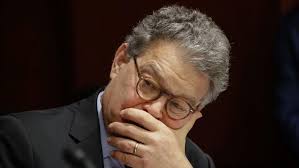 Sen. Al Franken (D-MN) spent much of his time at a confirmation hearing for President Trump's Health and Human Services nominee Alex Azar lecturing the nominee and the Trump administration on issues pertaining to "women's health." The senator has been accused of multiple instances of sexual harassment in recent weeks.
Franken spent more than four minutes of his time questioning the nominee on women's contraception, criticizing the Trump administration's approach to the issue.
The senator asked Azar if he would guarantee that all women would have access to free contraception, and the nominee responded that he would have to study the issue more in depth.
Citing a National Institute of Medicine study, Franken asked leading questions, trying to pin the nominee down on free contraception.
Multiple accusers have named Franken as a sexual assaulter who grabbed them inappropriately or performed other unwanted sexual acts.